There are various benefits of going to a medical weight loss center to jump-start your health transformation. The medical weight loss center usually has a medical provider (physician or allied health professional) who manages and prescribes medication as well as monitors your medical condition when you lose weight. This is particularly important if you are on multiple medications for various health conditions. Many medications are weight-dependent and hence when you lose weight, the dosages need to be adjusted.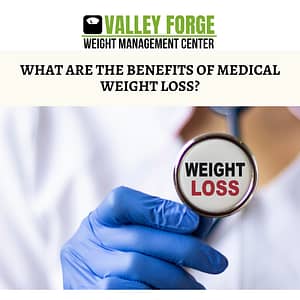 Valley Forge Weight Management Center (VFWMC) is a medical weight loss program in Pennsylvania. At VFWMC, Dr. Adarsh Gupta monitors your health conditions and manages prescription medications. He is board-certified in family medicine and obesity medicine and hence also acts as your lifestyle coach. You will always get a unified message and you can reach him anytime via in-app messaging for any questions while enrolled in the program.
How does excess weight affect our health?
There are serious consequences to being overweight, including heart disease, sleep apnea, diabetes, back and knee pain, hypertension, stroke, gallstones, and gall bladder problems. Excess weight can also cause or worsen depression [1].
How is medical weight loss different from other weight loss programs?
Most people who start a weight loss program may not see sustainable results because these programs do not focus on biology – the hormonal mechanisms that control hunger and satiety. The medical weight loss program under the guidance of a physician who has specialized training in obesity management can prescribe appropriate weight loss medications that can control hunger and satiety better. These medications are now FDA-approved for long-term management.
Changing a habit or behavior takes time. While you learn the new healthy habit, the medications provide support. Once you reach your goals, learn healthier habits, and feel great, you may be able to stop the medications. This is the reason why working with a doctor at the medical weight loss center is essential when you are seriously committed to sustainable weight loss.
Dr. Adarsh Gupta has been counseling patients and providing medical weight loss services since 2006. He can help you learn healthy eating habits, and prescribe appetite suppressants for sustainable weight loss results.
When you call a medical weight loss center, you do a medical weight loss consultation with a doctor. The doctor reviews a few tests including your blood glucose, cholesterol, liver function, kidney function, and thyroid levels. The doctor will also do blood pressure reading, weight, and body fat index, and may review EKG. He will then talk to you about your weight loss options.
You will choose a weight loss plan that is right for you from among the medical options. These can include a low-calorie meal plan, injections or drugs or meal replacements, or bariatric surgery. At VFWMC, we offer various non-surgical options that are based on the latest research evidence.
What happens during a medical weight loss phase?
At VFWMC, you will get individual attention from Dr. Adarsh Gupta right from the start when you go on a medical weight loss program. You will get 1:1 personalized support via an app that allows in-app messaging with Dr. Gupta.
In a medical weight loss center, a doctor monitors your progress ensuring safe and sustainable weight loss. They can tell you about changes in weight and provide personal support.
At VFWMC, each patient gets a scale from our office. This scale measures your body composition – the amount of muscle, fat, and water in the body, keeps a log of every measurement, and monitors changes. They get their measurements at home that sync to our app. Dr. Gupta monitors your progress and provides you with personalized guidance and support.
During a medical weight loss phase, your doctor at the medical weight loss center will help you develop a realistic weight loss plan based on your measurements and health data.
Many centers report that they achieve nearly 100 percent success rates with the clients who follow their programs. At VFWMC, we have the same success rates.
What happens after the medical weight loss goals are achieved?
Once you reach your weight, your relationship with the medical weight loss center does not end. The prescription medication regimen still continues for a short time until you learn the habits to maintain the loss of weight. Most doctors will enroll you in a weight maintenance program to continue to support weight loss maintenance. At VFWMC, we offer a similar weight maintenance program until the patient feels ready.
So, if you are serious about losing weight and not just about trying the latest fad diet, contact us at 215-703-7747 or you can enroll in our online medical weight loss program – Recalibrate.
References
Stephanie Fulton, Léa Décarie-Spain, Xavier Fioramonti, Bruno Guiard, Shingo Nakajima, The menace of obesity to depression and anxiety prevalence, Trends in Endocrinology & Metabolism, Volume 33, Issue 1, 2022, [Link]