Re-Calibrate Your Mindset and metabolism
100% Remote Weight Loss Program
It is not just about diet and exercise, it is about mindset and your metabolism. Recalibrate your mindset and metabolism with scientifically proven approaches. This program utilizes evidence-based approaches to changing eating patterns, physical activity routines, and mindset to achieve sustainable weight loss.  100% remote program! 
Get your measurement on the new smart body scale. Schedule a comprehensive initial visit with Dr. Adarsh Gupta. This visit takes up about an hour. You will receive a personalized report highlighting your current health risks and a custom weight loss plan that may include prescription medication (if appropriate) and meal replacements to jump start the process. 
Results with Personalized support and Guidance. You will receive:
One-on-one coaching with Dr. Gupta, who is board-certified in family medicine and obesity medicine
Guidance on creating healthy habits that last
In-app unlimited messaging with Dr. Gupta.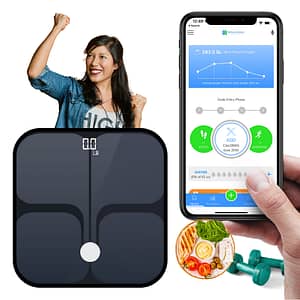 Personalized Supervision. You will receive personalized in-app notifications on your progress and suggestions every two weeks.
Unlimited in-app messaging with the physician.
Unlimited visits with the physician (in-person or virtual).
Online Lifestyle Skills Course. You will get access to online lifestyle skills learning course FREE (worth $99).
Body composition analyzer. You will get a FREE body composition analyzer scale that syncs up with the app to track your muscle, fat, and water.
All-in-one Mobile Tracking App. Enrollment in Our App for tracking meals, body measurements, and activity.
Monthly GLP-1a Prescription (Ozempic, Mounjaro, Saxenda, Rybelsus, Trulicity, Victoza, or Wegovy) or other anti-obesity medications as appropriate.
Access to Premium Resources. Access to Digital Library in Mobile Tracking App includes meal plans, workout routines, and recipes.
Access to Premium Fitness App – Sworkit. Get access to thousands of workouts and personal trainer-driven workouts from the app. You can exercise any place – at home or while traveling.
You can cancel any time after one month
If you have more questions, please feel free to call or SMS us at 215-703-7747.
What do patients say about us?
Lost 30 lb so far. Love, Dr. Gupta. He really takes the time and is very encouraging.
Amazing program! Dr. Gupta's program is spot on! Not a diet but a lifestyle. This is what I needed. Thank you, Dr. Gupta. Highly recommended for people who need to lose weight and live a healthy lifestyle.
Dr. Gupta's program gave me a lot of self-confidence that I lacked before.
*All testimonials are from real people who wrote reviews about Dr. Gupta on Facebook, video testimonials, and google pages.
Take the First Step Today