A custom medical weight loss program in PA helps people losing weight efficiently and getting in shape through a personalized exercise regimen and diet, giving them fruitful and healthy lives.
Losing weight efficiently and effectively is a goal that every person wants to pursue. It is not just for physical appearance but also for health concerns. Out of the top health concerns that people have, six—heart disease, cancer, lung disease, diabetes, obesity, and kidney disease—can be mitigated with a healthy lifestyle and having a physically fit body.
Being overweight increases the risk of several diseases, so everyone wants to keep from reaching that point.
That's why the custom medical weight loss program from Dr. Adarsh Gupta in PA and others is the new and more scientific method of obtaining health!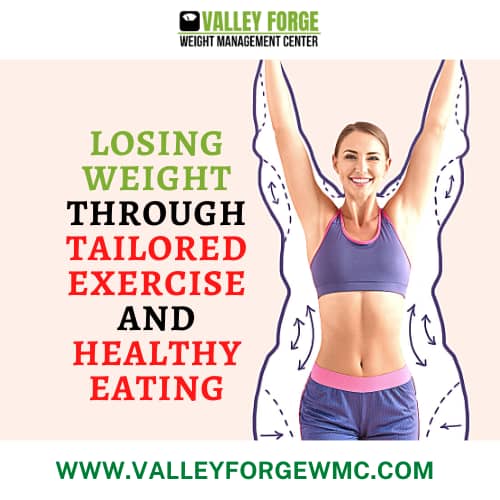 Eating Healthily with Personalized Diets
You'll most likely have seen weight loss formulas and diet regimens promoted by influencers on social media. With how effective they claim those formulas and regimens are, you'd think more people would be healthier!
There's no panacea when managing your weight.
If you want to be healthy, you work for it—and that means adjusting your daily habits, starting with diet.
So, how should you go about dieting properly? Ask anyone, and they'll each give you a different answer. That's because a healthy diet will be specific to each individual. Healthy diets should be based on a person's body and fitness goals.
A personalized training regimen determines what diets (e.g., pumpkin pie pudding, weight, and inches vanilla, oatmeal breakfast, etc.) are compatible with your body.
At Valley Forge Weight Management Center, Dr. Gupta personally discusses your health risk and develops a personalized meal plan and activity recommendation, and prescribes appropriate prescription and meal replacements to achieve the desired results efficiently.
Tailored Exercise Programs
While training regimens are a dime a dozen and can be found in magazines, Facebook ads, brochures, and storefront posters: the best exercise program for you fits your specific body. It is not the one-size-fits-all approach that a gym or a regular health clinic will provide.
Personalized programs target your body's specific needs, helping you achieve your aims more clearly and within a more reliable timetable.
All subscribing members of Valley Forge Weight Management Center get Free Access to the Premium Fitness app that has over a thousand exercises and workouts – whether be yoga, stretching, strength training, or cardio. It is like having your personal trainer with you all the time, and you can create a custom program that fits your need.
Here are reasons why a personalized program is better than a general one:
Individual bodies are not the same:

Everyone is unique. Not everyone can be a swimmer, but swimmers have capabilities and necessities unique to them that non-swimmers don't and will never have. The inverse is true: non-swimmers won't have the issues swimmers have. So, keeping in shape and reaching fitness standards depends entirely on your body's considerations. A personalized training regimen can factor in those considerations and develop a program targeting your body's strengths and weaknesses.

Exercises won't be generalized:

Aside from taking account of your body's unique disposition, your abilities and idiosyncrasies are also considered with a personalized training regimen. Those in mind can help your consultant narrow down which exercises can be removed or added, taking advantage of your capabilities and preferences.

You can achieve goals with efficiency:

What advantages you have will be highlighted with a personalized training regimen, and what disadvantages you will have can be improved or ignored, depending on your discretion. Personalized training regimens don't only work with losing weight but can also help with building muscle, gaining flexibility, endurance, etc.

Consultants provide insight:

Having a consultant who knows your body's ins and outs dramatically improves your experience with a training program. Compared to getting fit in gyms or at home, consultants provide helpful tips and steps that you would have never considered had you been training yourself. With a consultant, your regimen becomes more focused and efficient, helping you reach your goals more quickly.
The Man Behind the Program
As a distinguished physician who deals with obesity and weight loss, Dr. Adarsh Gupta wants to help people achieve their health goals. He has a treasure trove of experience and knowledge that comes with nearly twenty years in the industry.
Obesity, weight management, and medical technology are all fields he specializes in, and he has exchanged his ideas through publications, speakership events, and consultancy.
Dr. Gupta's programs will help you keep fit and healthy, and his team at the Valley Forge Weight Management Center is ready to give you the service and the life you deserve.
Resources:
Medical Weight Loss Program at Valley Forge Weight Management Center.
Podcast by Dr. Adarsh Gupta – Recalibrate your mindset and metabolism for sustainable weight loss.
"Eat more, exercise less and lose weight" – Course by Dr. Adarsh Gupta