This article discusses 6 strategies for successful weight loss. The internet is full of recommendations for losing weight, but most of them are FAD diets and gimmicks. You can easily implement these strategies to achieve successful weight loss goals in your daily routine.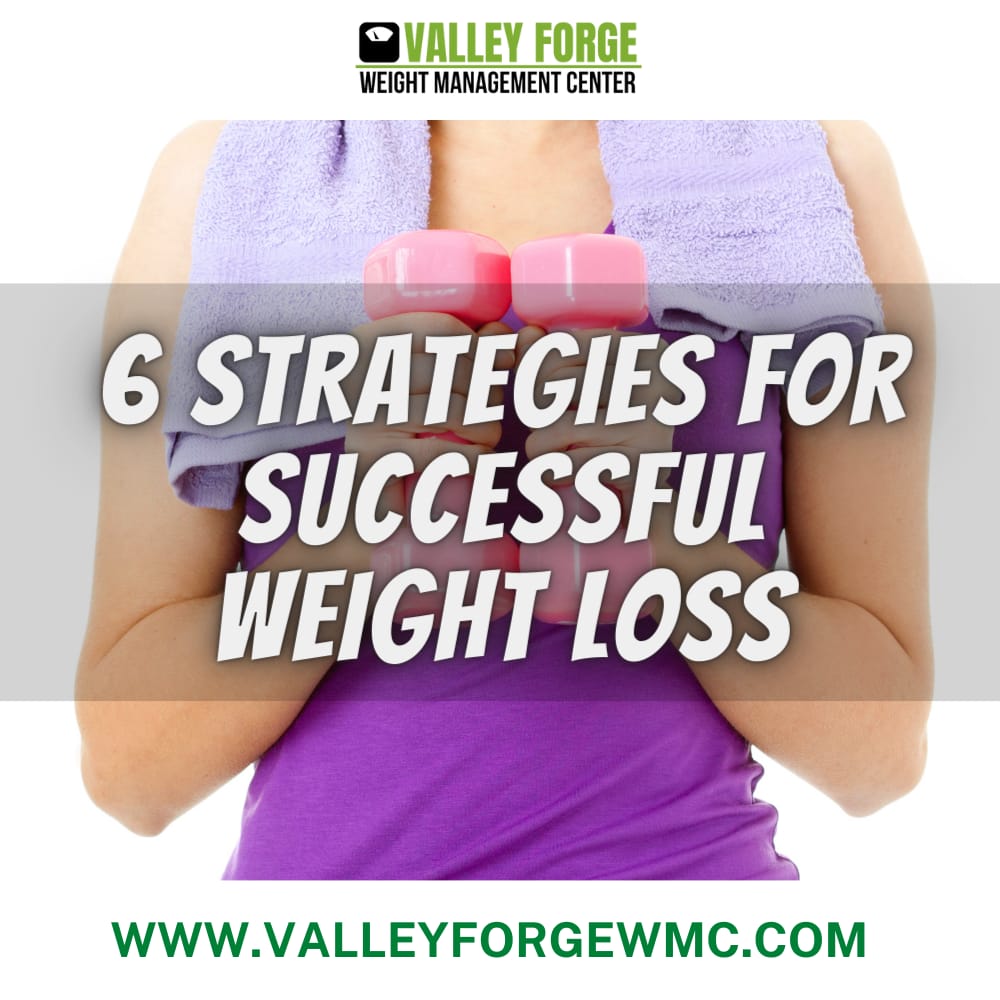 The internet is full of recommendations for losing weight. For a successful weight loss, one needs to understand the basic process of weight loss and not fall for the gimmicks and FAD diets. Regimens that restrict certain foods or diets that recommend extremely low calories often don't work in the long run because it is not practical to maintain such a routine, and they don't provide adequate nutrition.
If one is determined to lose weight, get into shape, and keep it off, one must focus on changing habits and commit to it. It is not an overnight process. If you aim to lose weight and keep it off, it requires discipline and habit change which takes time. But, it is not impossible. It is definitely achievable when you incorporate accountability and motivation. At Valley Forge Weight Management Center (VFWMC), Dr. Gupta provided one-to-one support, and accountability, and help you stay on track.
Today's Internet is flooded with claims that it can help individuals lose weight. Some offer food
supplements that claim to burn fats and unwanted calories. Some preach about the proper
physical training and exercise to shred off fat. Various exercise tools and equipment promising
great results in no time also dominate the market. But what you really need to lose weight is a
comprehensive approach. You need a complete weight loss program that covers diet, activities,
and medication. This is what Valley Forge Weight Management Center offers. They offer a
comprehensive medical weight loss program in New Jersey and Pennsylvania.
A medical weight loss program is the most effective option for those who are decided
and committed to truly achieving their ideal weight.
Here are 6 strategies for successful weight loss:
1. Work with the biology of the human body
One must work with human biology to achieve successful weight loss goals. Our body has a hunger-satiety center in the brain that controls our feeling of fullness and hunger. This center is controlled by many chemicals called hormones or neurotransmitters released in the brain and other body parts. These signals need to be toned down and controlled while you are learning new habits. The medical weight loss program is the most suitable option for this. One reason is that the medical weight loss program is managed by a medical professional called a bariatrician. A bariatrician is a doctor who treats obesity and its related condition. He is an expert in weight loss and can manage your current medications for weight neutral effect and prescribe weight loss medications for controlling hunger/cravings. At VFWMC, Dr. Adarsh Gupta, a bariatrician with over 15 years of experience in weight management, manages your current medications and prescribes appropriate medication for weight loss.
2. Understand what is causing the cravings
One should understand their motivation while eating. What is causing one to eat a certain food? Is it hunger or craving? There is a difference. Hunger builds up slowly and goes away with any food you eat. Cravings are typically for particular food items. It can start spontaneously when one hears, smells, or talks about certain food. Many times thirst can mimic hunger pangs. Stress, fatigue, and boredom can trigger one to eat more. Ask yourself if you are stressed, thirsty, bored, or truly hungry before reaching out for a snack.
3. Eat at regular intervals.
Plan out your meal times. You do not have to map out the entire menu plan for the day, but think about what you can eat for lunch, dinner, and snacks the night before, even if you plan to eat out. This way, when the time comes for meals or snacks, you are either not skipping it or grading anything in sight because you have built up a strong hunger. When you eat at regular intervals, you can control your hunger better and will be able to choose the best food options.
4. Make daily minor changes to cut calories
Find subtle ways to lower your calorie intake. For example, switch to 1% milk or skim milk from whole milk, or replace regular soda with diet soda (ultimately cut it out). Even fruit juices have a lot of sugar. One should replace them with plain water. If you do not like the taste of water, you can add zero-calorie flavoring to it. At VFWMC, Dr. Adarsh Gupta will work with your current eating habits and food cravings and develop a personalized approach to recommend lower-calorie versions and control cravings.
5. Utilize meal replacements in your weight loss plan.
A meal replacement is designed as a substitute, an alternative for solid foods, such as breakfast, lunch, or dinner. Usually coming in the form of nutrition bars and drinks, these meal replacements are created to be as nutritious as any regular meal, but without those added and unhealthy calories. Meal replacements were initially designed to save food preparation time for people always on the go, especially athletes.
Studies have shown that a meal replacement of one or two meals daily can help speed up weight loss [1]. And even after the desired weight is achieved, meal replacements can serve as supplements or weight maintenance because of their nutritious ingredients that also benefit the body's immune system.
We offer a variety of meal replacements at our online shop.
6. Incorporate Strength Training into your activity routine.
Strength training or weight lifting should be part of your exercise. Aerobics or cardio is good, but strength training is a must. You only need to about twice a week (two days apart). Gaining muscle mass improves your basal metabolic rate and hence metabolism. This will help one lose fat as well. One's percent body fat goes down, which improves fitness and health.
Successful weight loss at Valley Forge Weight Management Center
The medical weight loss program at VFWMC is comprehensive. Dr. Adarsh Gupta examines cardiometabolic risk and comes up with a program specifically designed for the individual's needs. The management plan includes lifestyle (activities, exercises, etc.), prescription medication for weight loss, and meal replacement (diet programs, food alternatives). If you come to think about it, a medical weight loss program is a sound
decision for losing weight.

In any endeavor, commitment is quintessential to achieving the desired results. Whether you are
into training exercises, diet programs, or medication, you must commit to the guidelines. A medical weight loss program is no different.
Steps for Success with our Medical Weight Loss Program
Schedule your appointment (in-person) or Subscribe to our monthly plan (online weight loss program)
Once you are enrolled in our program, you will receive 1) a free smart body scale (body composition analyzer) that syncs with our app, 2) instructions to setup and access our all-in-one diet, exercise, and body composition tracking app, 3) in-app messaging with Dr. Adarsh Gupta for continuous support and accountability, and 4) free access to the course – "Healthy Lifestyle Skills for Weight Loss" (worth $49.99)
Initial Comprehensive Evaluation. The initial visit is the most comprehensive visit of all visit types. It takes about 45 min to 1 hour. If you are determined to lose weight, you must first commit to the initial consultation process. Be honest with sharing your medical history, lifestyle, eating habits, etc., at this visit. It is the only way Dr. Adarsh Gupta can adequately formulate the right activities, timeline, and medication for your weight loss program. Remember, the program involves body assessment, physical activity recommendations, behavior modifications, and prescription medication for weight loss. At the end of this visit, you will receive a personalized report with your health risk assessment and recommendations.
Ongoing Accountability and Support via in-app messaging and visits (in-person or virtual). If you are committed to making a healthy transformation, Dr. Adarsh Gupta will provide personalized guidance, support, and accountability to help you reach your goals. He will also work with you to develop your short-term goals.
References
Allison, D., Gadbury, G., Schwartz, L. et al. A novel soy-based meal replacement formula for weight loss among obese individuals: a randomized controlled clinical trial. Eur J Clin Nutr 57, 514–522 (2003). https://doi.org/10.1038/sj.ejcn.1601587